Remember this post about
alternatives sources of fabric
? How about the post I wrote about
lightening up your window treatments for spring
? Well, I took my own advice and found an alternative source of fabric for some new window treatments for my dining room. Are you ready for this? They are two 60 X 84
tablecloths from Dwell Studio for Target
, just $19.99 each. No hemming necessary.
If cost were not a factor, I would love to have purchased the
Kendiri Curtain from Anthropologie
, but at $228/panel they were a little too pricey for my budget. The "panels" that I chose were less than $50 including shipping but still have the same feel as the more expensive option from Anthropologie.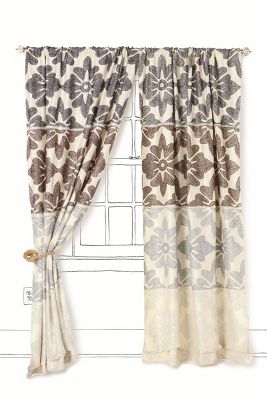 The
Greek key ribbon embellished panels
that were formerly hung in the dining room were 84 inches in length as well, allowing me to hang the new "panels" without having to adjust the rod.
A little fluffing is in order, but I think they add a fun touch to the room for the spring/summer months.
Tablecloths may seem like an unconventional choice for a window treatment, but in my estimation, they are the optimal solution. They are available in a huge array of colors, patterns, lengths and styles. Tablecloths are designed to be laundered frequently. Most importantly, they can be found at reasonable prices so if you tire of the pattern or color, you can switch them out guilt-free.