Mats can be custom cut to work with the shape of your piece.
Image from
AroundtheImage.com
I read once that if something is masterfully framed what you are framing doesn't really matter so much. Sadly, we can't all afford custom framing, but there is another way to make even inexpensive prints or photographs appear more interesting. The way you choose to treat the mats that you use with your frames can add that special touch that draws the eye in.
If you have a sad little frame and white mat just begging for a makeover, don't miss out on these ideas:
Jenny from Little Green Notebook borrowed an idea from Martha Stewart's 2009 crafting book and used ribbon to embellish her mats. I'll bet you barely noticed the art work.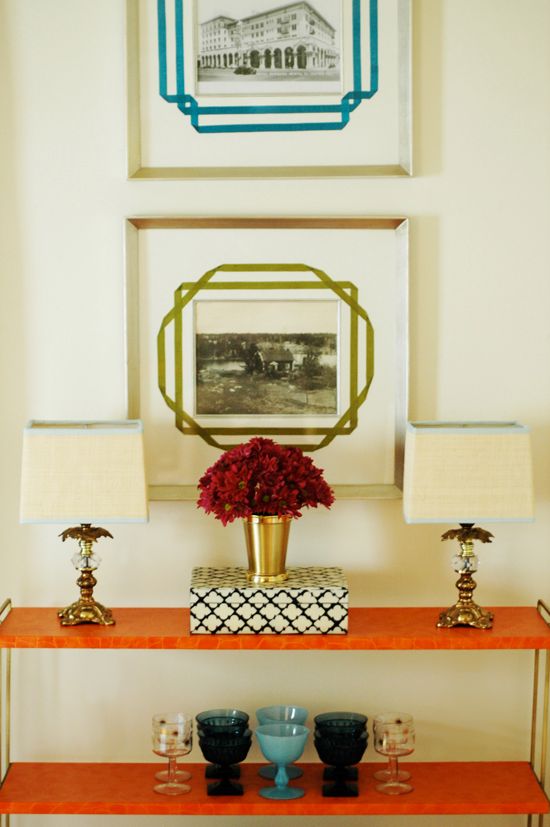 I borrowed a copy of
Martha Stewart's Encyclopedia of Crafts
from the library to get directions for this project and plan to post a tutorial in a future post. ( I was not able to find instructions online for this project.)
The Color of the mat can dramatically change the look of a framed piece. The framed artwork below would not be nearly as interesting if the mats were white.


Image via Little Green Notebook
A series of black and white photographs would really pop if each were matted in a different color. This set of 8 mats in the colors shown from
WorldViewPic.com
is just $19 and were featured this Month in Martha Stewart Living. The mats have openings to hold an 8 X 10 image.
Instead of purchasing mats, create your own from patterned scrapbook papers, wallpaper samples or even old maps or gift wrap.

Craft paint can be used to give white mats a little pizazz. To give the framed prints in my dining room a new look for spring, I mixed yellow and white craft paints and turned this:
into this:
With plain white mats being so reasonably priced and craft paints rarely more than $1-$2 per bottle, I can change the look seasonally. (I may need to tone down the yellow here as it dried a bit brighter than I expected.)
Fabric can also be used to give a photo mat a new look. Discounted remnants from fabric stores make this a low cost option. Instructions for this type of project can be found
here
.
Image from The Cottage Home
Let's all resolve to banish boring mats from our homes.
Do you having any ideas for low-cost options for matting?