Image via
Doubletree Hotel
When my husband and I had our first child we cherished the weekends when we each treated the other to one day of sleeping in. My husband would get up with our son on Saturday mornings and I took Sundays. It wasn't long after our younger child arrived that a new weekend tradition was born, breakfast in bed on your morning off. My husband was actually the one who started this tradition one Saturday morning by bringing me coffee and a bagel and turning on the television to "Interior Motives" with Christopher Lowell. (Does anyone else remember that show?) I was hooked.
Now that our children are older, we both enjoy sleeping in on the weekends. Whoever wakes first grabs the newspaper and makes the coffee.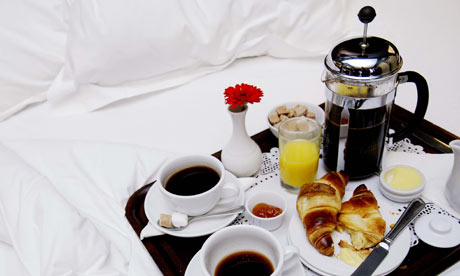 With our anniversary coming up next month I'll plan to make him a special breakfast in bed. I might have to bring out the big guns and make my favorite,
Lemon Souffle Pancakes with Raspberry Sauce.
In my opinion, the presentation of the breakfast is what makes the gesture memorable.
Image via
Interior Concepts by Wanda Shorton


Now is the time to dust off that wedding china and crystal that you've been saving for a special occasion.

Even a simple muffin from the neighborhood bakery woul
d loo
k mouth watering when placed on this china.
Image via Country Living
If you have any flowers currently blooming in your yard, snip one to place in a bud vase on your breakfast in bed tray. I love this
bud vase from Jonathan Adler
available for $24.95 from Barnes & Noble.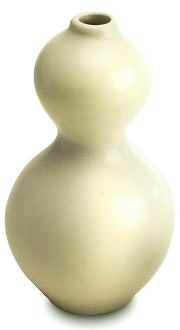 Breakfast in bed calls for a great tray. I like the convenience of this
reversible breakfast in bed tray
from Stacks and Stacks ($39, free shipping) that can be used with or without legs.
Finally, don't forget the extra elements like additional pillows, a soft throw blanket and crisp sheets that make dining in bed special. Check retailers like
TJ Maxx
and
Home Goods
to find great deals on these items.
I'd love to be served breakfast in bed here.
Try making breakfast in bed for yourself this weekend or serve it to the ones you love. It's a great way to start the day!