It's June again, the time of year for graduations and weddings. That translates into lots of young adults moving into the first home that they can call their own. I was a June bride myself, as a matter of fact, today is our anniversary, 22 years of marital bliss! Each year when our anniversary rolls around I can't help but think back on our early years of marriage and our first apartment. It was decorated in a style I refer to as "early marriage". Picture my in-laws earth tone hand-me-down furniture, circa 1976. A less than stylish home is the price you pay for getting married 6 months after college graduation. If I'd only known then what I know now!
Yes, my friends, I had 6 of these little beauties around my first dining room table.
If only the current me could have a talk with the young, newlywed me, this is what mature Karen would say to Young Karen:
Know where to splurge and where to save
Buy the best sofa you can afford
. It may be tempting to run out and buy that sofa at Bargain City for $399, but resist the urge. Remember what Mama told you,
you get what you pay for
. A well made sofa should last at least 10 years. A bargain sofa is the design equivalent of plastic silverware, basically disposable. (Trust me on this one, Young Karen made this mistake.) Unless you want a sofa that shows signs of every bum that has ever perched on its arm, pony up for a quality piece.
Save money by shopping for accent pieces at flea markets, consignment shops and thrift stores.
Often you can find well crafted pieces that just need a little sprucing up. A little sanding and painting and you could be the proud owner of a one-of-a-kind piece. When the budget allows, you can upgrade.
Make Craigslist a daily stop
if you are looking for a particular style of furniture. To find creative ideas for turning your finds into treasures, check out the regular weekly feature,
"What's Good in Your Hood?"
written by Joi at Nuestra Vida Dulce.
Joi found this dinette set for $45 on Craigslist. A coat of paint and new fabric on the seats...I'm just saying...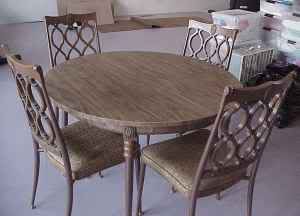 Make friends with the sales people at your local consignment shops
. Let them know what specific items you are looking for and ask that they call you if one becomes available.
High quality fabrics are worth the extra money
. I learned this tip from a former neighbor, an interior decorator. If you can't afford a great deal of yardage, purchase a yard or two and make pillows or cover the seat cushions on your dining room or kitchen chairs. You can generally cover two chair seats with a single yard of fabric. You'll still get the impact without dropping a lot of cash. Great fabrics can be found by checking online for sales.
Calico Corners
often has gorgeous fabrics on sale at the end of the season, check stores regularly.
Don't cut corners when purchasing a mattress
. It may be tempting to put your money into a fabulous headboard instead, but all mattresses are not created equal. Make sure you test the mattress for comfort and support. Everyone has a personal preference; get the one that's right for you. You'll get a better night's sleep, your back will thank you and so will your massage therapist!
Look for quality when purchasing furniture.
New furniture, regardless of where it's purchased, can be very expensive.
Ask a lot of questions
of the sales people. For instance, why is one piece more costly than another piece that appears simila? Likely the pricier pieces were constructed with higher quality components or the craftsmanship is superior. This equals longevity.
Features like dovetailing show that a piece is well crafted and will last longer.
While I'm dispensing advice to Young Karen, I wish I could have told her that she should reconsider adding fine china, crystal and silver to the wedding registry. Good quality white dishes and heavy flatware is the way to go. Young Karen never threw swanky dinner parties. Real friends are happy to dine with Chinet. If Young Karen wanted the posh china and silver she could have scored some good deals by shopping estate sales instead.
Did you make any mistakes when decorating your first place? What wise advice would you give Young Karen?