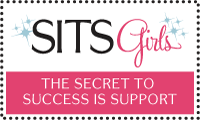 It's my
SITS
day and I couldn't be more excited!!! Let me back up for those of you who are unfamiliar with this site. SITS or
The Secret to Success is Support
, is a group of over 9,000 female bloggers committed to supporting one another by leaving comments. It's easy to join and a great way to discover new blogs and increase traffic to yours. Each week SITS features several blogs to highlight-today it's my turn!!!
For those who are new to my blog, welcome and thanks for stopping by. I'm Karen, a midwestern wife and mother with a passion for creating a beautiful home and lifestyle on a budget. The less complicated the project, the better.
Pumpkin topiaries are an easy way to dress up your front porch for fall. Just cut off the stems, stack and you're done.
I once suffered from what I call "Martha Stewart Syndrome", the irrational belief that I had to be Martha-esque in everything home-related including the meals I cooked, the rooms I decorated and the parties I threw. I recovered quite nicely, thank you. I love a good DIY project as much as Martha but I like my projects to be quick and easy, so NOT Martha-esque.
Embellishing pumpkins with decorative nails is way less time consuming and doesn't involve a gooey mess.
Paying retail makes me break out in hives. I find that decorating my home on a dime is a lot more fun than buying everything from a department store. I scour thrift stores and stalk my favorite online sources for deep discounts. When all else fails, I get out a can of my trusty friend, spray paint and give new life to pieces that I already own.
My guest room/home office is a compilation of spray painted pieces, clearance scores and thrift store finds. (I did splurge on a rug-a girl deserves the occasional treat, right?)
So glad you stopped by, feel free to poke around a bit. Here are a few posts you might enjoy:
Make the Ordinary Extraordinary
Home Decorating Shows May Be Hazardous to Your Health
If I Knew Then What I Know Now
A huge thanks to the
SITS girls
for featuring my blog today!