The 3rd anniversary of my blog came and went without as much as a peep from me. (August 9th if you were wondering.) I know, I know, I've been MIA all summer and I can't say it was because I completed dozens of projects. In fact, much of the time I budgeted for completing decorating projects was spent unsuccessfully stalking furniture stores in search of the perfect end tables and mirror for my great room. Sadly, I managed to get almost nothing just a handful of things accomplished.
So let's get up to date. When last we spoke my home was sporting dog soiled carpet but I'm happy to say that it was replaced in June after our sweet dog passed. (Sad face.) We chose a carpet that has a subtle texture that's reminiscent of a natural fiber. We like the way it lightens up the room. It's an affordable alternative when hardwood is out of the budget.
As evidenced by the collage above, there has been a change in the accent colors on our main floor from cool blue tones to a warmer autumnal palette. I could swear the temperature in the room dropped several degrees when I accented the room in blues, but with fall upon us I was ready for a change.
During the oppressively hot and humid days of summer I also took some time to plan for a mini update to our home office/guest room that I'll be working on throughout the fall. My inspiration for the room was the Samoan Plantation fabric from Iman Home Fabrics. At $34.99/yard I won't be using it for window treatments-although it would be pretty striking. Instead, to get the most bang for my buck and to take advantage of the large scale pattern, I think I'll use it to cover a large bulletin board to hang over my desk. If there is any left over (I bought just a single yard.) I'll put it to good use.
Look how amazing it looks used to upholster a wall.
While I don't have any photos to share, I did find time (on one of the few days when the humidity was tolerable) to give my office desk a fresh coat of paint.
Scenes from the old home office/guest room.
I also ordered a couple accent lumbar pillows on Etsy in the fabric shown below that I'll be using in the space.The bright orange and white coordinates nicely with the inspiration fabric. I highly recommend Willa Skye Home for high quality pillow covers at reasonable prices .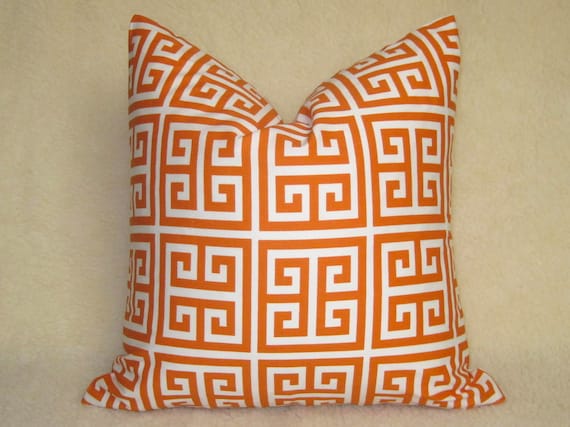 Finally, I did lots of organizing and hired a handy man to complete multiple repairs that would have taken me weeks to finish.

A friend highly recommended this handy man and he is an absolute gem; he only charges $18 and hour, could handle every request I made and has no minimum time requirement.

Seriously, when he handed me his bill I nearly pinched myself to see if I was dreaming.

M

oney saving tip:

Find a good handy man when you're not sure if you can handle a project on your own. You'll end up saving time and money in the long run and you won't need to use up your repertoire of curse words in the process!
This summer was all about relaxing and enjoying time with family and friends. I missed blogging but I wouldn't have it any other way. So that's how I spent my summer vacation.
How about you, did you finish any projects over the summer?